1 Purpose of this Handbook
The programme handbook has been developed as a resource for undergraduate students completing the BSc Public Health programme. The handbook aims to provide a comprehensive introduction to the Division of Population Health, Health Services Research and Primary Care and information on all aspects of your programme of study. This resource should be used as the first point of reference for questions concerning your programme, support or advice, or academic policies and procedures.
The University of Manchester is a large and complex organisation, and we want to ensure that you know how to access the information, support, and guidance you need to succeed in your studies. It is therefore designed to guide you through many aspects of your time as a student and provides useful links to information available through the University's website, as well as summarising the facilities and support services that are available across the University and how you can access them. It also outlines what you should expect of the Division and what they can expect from you and clarifies the policies and procedures relevant to your area of study. It is your responsibility to familiarise yourself with the Student Handbook and with the contents of the student pages on Blackboard and to use them as a reference when required since they govern important aspects of your programme and therefore may have a significant impact on you and the successful completion of your degree.
1.1 Communication
You should note that email is the default means of communication between staff and students. You must use your official University email address when communicating with the University not least because email sent from non-University mail accounts may be classified as junk mail and hence not read.
Information is also provided electronically using Blackboard where students can find detailed information on units and programme-specific information. Teaching staff and students are normally expected to check their email accounts, Blackboard and other electronic methods of communication on a daily basis during term-time and to respond to messages as appropriate.
Note: You will need to refer to this Handbook throughout your programme.
2 Welcome from the Programme Director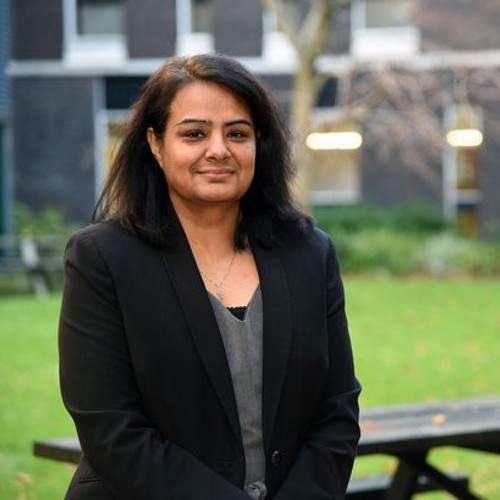 Welcome to the Department of Public Health, Epidemiology and Public Health Group. I am the Clinical Professor of Public Health and Epidemiology at The University of Manchester, and I have the honour of being the Programme Director for the BSc in Public Health.
We're so excited to be able to offer this opportunity to students from across the globe. We have based this on our very successful master's programme. We are offering a completely flexible learning opportunity that can be taken on-campus or online and we will support students in their career goals in public health policy and practice. We are part of a vibrant research community, and we have both international and national links to many other stakeholders who work with us for delivering high-quality research, teaching and social responsibility.
As one of our students, you'll be offered the opportunity to come onto campus or access these events offline as well as being able to have access to all the components of any of our residentials, our WHO winter School, our International Summer School, and our International Festival of Public Health, either in person or through distance learning and on the web.
We hope you'll enjoy learning with us, and we hope that you'll be able to fulfil your career goals in public health. We know we have a dedicated team of experts both in research, teaching and training that are here to welcome you to Manchester. We wish you every success as you begin the BSc Public Health programme.
Professor Arpana Verma
Clinical Professor of Public Health and Epidemiology
Programme Director, BSc Public Health
3 Programme Contacts
Head of School:
Professor Andrew Brass
Head of Division:
Professor Jamie Kirkham
Head of Teaching, Learning & Student Experience:
Gabrielle Brennan
BSc Public Health Team
Programme Director:
Professor Arpana Verma
Deputy Programme Director / Senior Academic Advisor:
Helen Davidson
Academic Lead for Recruitment and Admissions:
Gary Clough
Academic Lead for Exams & Assessments:
Steph Mitchell
Lecturer, Department of Public Health, Epidemiology and Public Health Group
Sam Aston
Public Health Tutor, Department of Public Health, Epidemiology and Public Health Group
Laura Swain
Department of Public Health, Epidemiology and Public Health Group

School of Health Sciences

Faculty of Biology, Medicine and Health

Stopford Building

The University of Manchester

Oxford Road

Manchester

M13 9PL
4 Where to go for help and advice
There are a number of ways you can obtain help and advice, whether you are working online or on-campus. In addition to the Programme team, there are several people you can contact for support throughout your programme:
4.1 Academic Advisor
Each student will be allocated a named Academic Advisor who will provide advice and support for the duration of the programme.
Our aim is that by engaging with your Academic Advisor, you:
will know that your advisor cares about your progression, academic success and future plans
will feel that you belong and are valued regardless of your background, personal strengths and weaknesses
will know who to contact if you experience difficulties either personally or academically
will work to enhance your academic and personal self-efficacy after setting and reviewing goals and reflecting on your experiences
will gain the confidence and skills to develop a career in Public Health
4.2 Course Unit Lead
There will be a designated 'Course Unit Lead' for every unit you complete. The Course Unit Lead is your first point of contact for any unit-specific queries including unit content and assessment guidelines.
4.3 Programme Director
The Programme Director's role is to ensure the smooth running of the programme. This involves chairing a Programme Committee, overseeing the unit evaluation process, considering changes and improvements to the programmes offered and ensuring adherence to the guidelines set out in the University's Academic Standards Code of Practice (Teaching Standards Committee of Senate 1998).
4.4 Contacting lecturers
Lecturers will let you know how best to contact them at the beginning of each unit. Similarly, your Academic Advisor will let you know at the beginning of the programme. Meeting appointments (either online or face-to-face) will consider the prior commitments of staff, students and any time differences with international students. When leaving a message for lecturers please remember to leave your own contact details.
In an urgent situation any available lecturer can be accessed for advice and support. It may then be necessary to share this information with the Academic Advisor / Course Unit Lead / Programme Director as appropriate.
4.5 Tailored support for specific communities
The University of Manchester recognise that some student groups will need specific support during their time at university. You may belong to one or multiple groups; the university is here to ensure you can access the help you need:
5 Programme schedule and key dates
5.1 Semester Dates 2022 -2023
Semester 1:
Commences:
Monday 19th September 2022 (note: University online welcome activities commence Monday 12th September 2022).
Ends:
Friday 27th January 2023
Semester 2:
Commences:
Monday 30th January 2023
Ends:
Friday 9th June 2023
Resit period (otherwise holiday)
Commences:
Tuesday 1st August 2023
Ends:
Wednesday 30th August 2023
Please note that this provides an overview of Year One of the Programme; an overview of your second and third year will be made available nearer the time.
5.2 University Holidays 2022-2023
| | |
| --- | --- |
| Christmas: | Monday 19th December 2023 – Friday 13th January 2023 |
| Easter: | Monday 27th March 2023 – Friday 14th April 2023 |
| Summer: | Monday 12th June 2023 – Friday 15th September 2023 |
6 Timetable & Course Programme (A-Z) overview (2022-2023)
Students will be given guidance on accessing their timetable as part of their welcome and induction. If students are concerned that their timetable is incomplete or they have not been allocated to a seminar or webinar group, they should contact the programme administrator for advice.
Please note this overview is correct at the time of publication. Occasionally changes will need to be made due to external circumstances (for example, new government guidelines). In such instances, an updated version will be made available via the Community Space on Blackboard.
This course programme overview includes the key teaching, assessment and holiday periods. For day-to-day timetabling, students can access their personalised timetable via My Manchester.
My Manchester Timetable
The My Manchester Timetable User Guide for Students provides useful information to help students get the most out of their personalised timetable. Features include:
Accessing the Timetable for the first time
Using the grid view
Changing the grid view
Printing
iCal feed
Colour coding your timetable view
List view
For queries about the status of the information in your personalised timetable please contact the programme team in the first instance. The programme team are responsible for the information that is displayed in the timetables. If you are experiencing problems logging into My Manchester or with the Timetabling portlet not displaying please contact the IT Support Centre.
6.1 Timetable & Course Programme (A-Z) overview 2022-2023 (Year 1)
7 Health and safety
It is important that your health and safety is maintained throughout the duration of the programme. When working online, it is important that you are correctly positioned at an appropriate workstation. It is also recommended that you take regular breaks away from the screen, so that your visual and physical wellbeing is maintained.
If you are attending campus, please note that a total no-smoking policy has been implemented throughout the University. You also need to familiarise yourself with the procedures for dealing with an emergency, including suspecting or discovery of a fire and fire exit points. There are two Health and Safety advisors for the School. Please see the University of Manchester Health and Safety Policy for further information. Aspects of the course content may cause distress to some students. If you are affected by any of the issues raised, you can access support from your Academic Advisor who may then refer you to other support services such as the counselling service.
7.1 Help in a crisis or emergency
The University of Manchester recognise that there may be times when students need help in a crisis or emergency. The University has an emergency webpage which provides details of emergency services, helplines and face-to-face support.
7.2 Providing the University with your emergency contact details
As part of our approach to support your safety and wellbeing, we require all our students to nominate and provide the University with details of at least one emergency contact as part of the annual registration process. We ask you to provide this information so that it is available in the unlikely event that a situation arises where we consider your health, wellbeing or welfare to be at risk. You will need to nominate at least one emergency contact but we would encourage you to provide the details of at least two where possible. Whilst it is your choice of whom you nominate, usually your emergency contact will be a parent, family member or guardian. Most importantly, they must be in a position to be able and willing to act on your behalf in the event of a serious incident or emergency where we consider your health, wellbeing or welfare to be at risk.
You should ensure that your emergency contact is:
aware that they have been nominated and that their contact details have been given to the University for this purpose;
readily contactable – wherever possible, please provide a mobile phone number as well as a landline so that contact can be made quickly;
if possible, able to speak English.
Your emergency contact details are held on the University's student record system, in accordance with the University's Registered Students Privacy Notice. It is important that all students keep this mandatory information up to date and you can update it at any time by logging into My Manchester. For further information, please read the Student Emergency Contact Statement.
8 My Manchester
You should familiarise yourself with My Manchester (sometimes called your 'Portal'). My Manchester is a way of accessing resources and services, including your personalised timetable, Blackboard, the Library, Student Services, non-academic services, University email, and the Student's Union. The Guide to My Manchester is a useful resource.
8.2 Student Email
As outlined in section 1, communication via your University of Manchester email account is the default means of communication between the University and its students. You'll have access to an email account through Microsoft 365. This account will be available to you throughout your time at the University and will close shortly after you graduate. You can access your email via the link on the My Manchester homepage.
8.3 Blackboard
Blackboard, the University's virtual learning environment, will be used for online teaching. It is a web-based system that complements and builds upon traditional learning methods used at The University of Manchester. By using Blackboard, you can:
view course materials and learning resources
communicate with lectures and other students,
collaborate in groups
get feedback
submit assignments
monitor your own progress at a time and place of your own convenience
Training in the use of software
The Faculty eLearning team have produced a short introduction to Blackboard for new students.  The recording is hosted in two places: the VLS and on YouTube:
The recording is just over seven minutes long and covers most of the commonly used tools in Blackboard.
My Manchester is also where you can access your library account, make tuition fee payments, update your personal information such as your address and much more.
9 Teaching, learning and assessment
9.2 Details of the programme
This is an online undergraduate course (BSc with Hons) with flexible off-campus or on-campus learning options available. The BSc in Public Health will equip you with:
the skills and knowledge to apply to public health concerns at local, national and international level
the ability to apply relevant theory and scientific principles to practical situations
the capability of meeting core competencies in public health.
You will learn within a research-active public health department; you will be taught by professionals working in the field of local, national or international public health. There is an emphasis on applying your learning to real life public health issues. You will receive an individual student support package, which includes regular meetings with your personal academic advisor throughout the course. You will be able to mix with students from a range of disciplines from all over the world. You could also present your work at the International Festival of Public Health.
The teaching for this programme is web-based, alongside face-to-face components which will be made freely available online. This means you have the option to be based on- or off-campus throughout your degree. Flexibility is the main objective of this course, and we are using technology that allows you to study at any time from any device.
9.3 Teaching and learning methods
There is a high degree of interactive, student-centred learning through exercises, discussions and debate. This is facilitated through lectures, seminars and discussion groups. The course materials will include links to external web resources such as reports, academic papers, other teaching materials and case studies.
You are encouraged to undertake independent learning based on the learning outcomes for each course unit. You will learn through reading, reflecting, discussing, questioning to develop curiosity and seeing new perspectives.
Exercises will use real-world examples from appropriate settings, for example from public health practice, globally and nationally. You will also be encouraged to improve existing and develop new communication skills and digital capabilities.
You will be able to put into practice what you learn, with opportunities to interact with other students and tutors through dedicated discussion groups. Some units offer exercises based on group work through discussions. These exercises meet the skills-based learning objectives common to many public health curricula, such as planning and managing a project, and working as part of a team to deliver a project.
Each course unit will require 15 to 20 hours of study per week. You will be supported to work through these units independently and guided by peer and tutor support. A unit-specific calendar will be made available in the first week of all units.
9.4 Overview of the programme
9.4.1 Induction
We find that students greatly benefit from a formal induction to the course before they start studying, through an online induction unit. This will introduce you to all aspects of the course and is a good opportunity to meet staff and other students. In the first week of the programme, there will be a face-to-face induction course for on- and off-campus students. Please note that attendance at the induction programme is mandatory.
9.4.2 Course Units
Each year on the programme is made up of credit-bearing 'course units' for students to complete. More information is provided later in the Handbook.
9.4.3 Public Health Student Development Programme
In addition to your credit-bearing course units, a programme of development activities will be offered to all students. These will be offered both face-to-face and online to ensure on- and off-campus students can access the same resources. Development activities include subjects such as orientation, reflection, how to complete assessments, wellbeing, careers advice, altruism and preparing for the year ahead.
Live lectures will be included on topics such as urban health, place-based approaches, global and local inequalities, prevention and 'clean minds, dirty hands', as well as additional skills for a career in public health.
9.4.4 Stellify
Stellify is a university initiative to develop your leadership skills and encourage community volunteering. To achieve the Stellify award, you have to take part in the three Ethical Grand Challenges , volunteering and leadership activities.
9.4.5 Coursework and Assessment
Each course unit outline sets out our expectations for self-assessment and marked assessment. The assessment will be closely linked to the learning outcomes of each course unit.
Factual knowledge is assessed by self-assessment assignments/quizzes. The results of these self-assessments are purely for feedback purposes. Marked assignments will focus on the ability to synthesise and implement knowledge. There are no formal examinations. We will use a variety of assessment methods and styles. Please refer to individual course unit outlines for details.
We aim to offer the same quality of feedback across the course, although how we deliver this feedback will vary from unit to unit. More information will be available through Blackboard, our online learning platform. All feedback is designed to show how you can improve your work.
Formative feedback will give you the opportunity to develop and improve. This is offered in several different ways, for example:
feedback by tutors and fellow students on discussion boards;
automated feedback from self-test or quizzes;
peer review exercises;
reflective exercises which provide sample answers.
These are not assessed and are therefore optional. However, you will be encouraged to take part and reflect on the feedback that you receive.
9.4.6 Course unit details
You will take five mandatory 20-credit units each year, with additional student-selected components that will provide you with a local and global perspective of the art and science of public health. We have based the course on the pillars of public health practice, health promotion, health protection, healthcare public health and included global health examples.
You can tailor your learning through personalised plans and optional units. You will have access to a wide range of experts and postgraduate students. We offer additional optional non-credit bearing public health learning opportunities via our lectures, seminars, the WHO Geneva Winter School , and the International Festival of Public Health.
Course content includes:
An introduction to public health
Evidence based practice
Health promotion
Health protection
Healthcare public health
Global health
You will learn and present your work through a range of methods including research posters, literature reviews, and global health research, policy or practice project.
9.4.7 Course units for Year 1
The course unit details given below are subject to change and are the latest example of the curriculum available on this course of study.
9.4.8 Course units for Year 2
| | | |
| --- | --- | --- |
| Title | Credit rating | Mandatory/optional |
| Evidence-Based Practice (principles of research methods) | 20 | Mandatory |
| Health Promotion Methods | 20 | Mandatory |
| Health Protection (communicable disease control and prevention) | 20 | Mandatory |
| Health Care Public Health (health inequalities) | 20 | Mandatory |
| Global Health (globalisation, the economy and public health) | 20 | Mandatory |
| Literature Review Project | 20 | Mandatory |
9.4.9 Course units for Year 3
| | | |
| --- | --- | --- |
| Title | Credit rating | Mandatory/optional |
| Evidence-Based Practice (applying research methods) | 20 | Mandatory |
| Health Promotion (applying Health Promotion theory and methods to individuals and communities) | 20 | Mandatory |
| Health Protection (outbreaks, epidemics, endemics and pandemics) | 20 | Mandatory |
| Health Care Public Health (tools for healthcare Public Health) | 20 | Mandatory |
| Preparation for Independent Study on Global Health Project | 20 | Mandatory |
| Global Health Project | 20 | Mandatory |
9.4.10 Unit evaluations
Throughout the programme you will be asked to complete an evaluation of each unit you complete. We greatly appreciate all feedback, as this will help us enhance the programme for future students. Thank you.
10 University Services and Support
10.1 Library and online services
The University of Manchester offers extensive library and online services to help you get the most out of your studies. Access resources like books, journals and databases, develop your study skills and find a study space on campus.
Website: www.library.manchester.ac.uk
10.2 IT Services and eLearning support
IT services look after the technology powering lots of the systems you'll regularly use. More information about what support they offer can be found via the Welcome pages. Your Faculty eLearning team can support you with queries related to Blackboard, Turnitin and more.
Log in to the IT Support Centre online to log a request, book an appointment for an IT visit or telephone call, or search the Knowledge Base.
Telephone: +44 (0)161 306 5544 (or extension 65544). Telephone support is available 24 hours a day, seven days a week.
In person: Walk-up help and support is available at the Main Library or Alan Gilbert Learning Commons.
Website: www.itservices.manchester.ac.uk
10.3 Student Support
Your go-to hub for student support at the University of Manchester is www.studentsupport.manchester.ac.uk. Just a sample of the key services are outlined below.
10.3.1 Student Services Centre
The Student Services Centre are the central team who can help with a range of queries including Registration, Immigration and Visas, Tuition Fees, Graduation and much more.
Website: www.studentsupport.manchester.ac.uk/student-services
10.3 Disability support
If you have a disability or an issue such as Dyslexia, Dyspraxia, Dyscalculia then the Disability Advisory & Support Service [DASS] would welcome you registering for advice and additional support.
Website: www.dass.manchester.ac.uk
10.4 Occupational Health
On-going support for all students is provided by the Occupational Health Department. The aim of the service is to promote the health and wellbeing of all students and the prevention of illness and injuries at work. This is achieved by ensuring students are offered at commencement an initial health screening appointment where key health related information is provided, and appropriate immunisation provided.
Website: www.occhealth.manchester.ac.uk
10.5 University of Manchester Counselling and Mental Health Service
The University of Manchester Counselling Service offers confidential help with any personal issues affecting work, self-esteem, relationships, sexuality, mental health and general well- being. No problem is too small and getting help early can save stress and further problems later on. Counselling can provide a valuable opportunity to work on personal issues in a confidential setting with someone independent from your own life.
The Counselling Service is freely available to all University of Manchester students and staff. Our team of professional counsellors has a wide range of experience and qualifications, including extensive expertise in counselling and psychotherapy, which allows us to help people cope better with problems affecting their work or general well-being.
Website: www.counsellingservice.manchester.ac.uk
10.6 University of Manchester Students' Union (UMSU)
Student life is not just about studying. It's about making friends, gaining skills and experience, taking a stand, earning a crust, exploring a new city and getting the right support from the University. UMSU is the UK's largest Students' Union, providing students with space, resource and money to amplify student life. UMSU have a dedicated advice service, offering impartial and confidential advice on a range of issues including academic, financial, health & welfare and housing.
Website: www.manchesterstudentsunion.com
10.7 ResLife
ResLife are a dedicated team providing support and advice for students staying in University of Manchester Halls of Residence. The majority of the team live in halls alongside students, with ResLife Advisors being either postgraduate students or staff members that carry out duties alongside another role in the University.
Website: www.accommodation.manchester.ac.uk/reslife
10.8 Policy on religious observations
Information on the University Policy on Religious Observations can be found by following the link, or accessing the full policy document here.
11 Career opportunities
A career in public health offers diverse opportunities in a variety of settings, from local public health departments to global NGOs (non-government organisations).
This course is a great step towards a career in one of the following areas:
Public health practitioner
Consultant in public health
Public health manager
Public health officer
Epidemiologist
Biostatistician
Health educator
Public health statistician /assistant
Public health intelligence analyst/ assistant
Public health researcher/research assistant
Health visitor
Community development worker
Environmental health worker
Transport development worker
Housing officer
Health promotion officer
Health improvement practitioner
Lecturer in public health
Communicable disease consultant
Health protection specialist
11.1 Career resources
There are a range of careers resources offered by the University and the Faculty of Public Health, which is a membership organisation for public health professionals in the UK and around the world. You may wish to take our Master of Public Health. We offer bursaries to BSc Public Health graduates.
To aid your career path, you can find additional advice and resources here:
11.2 University Careers Service
The University Careers Service aims to improve the employability of students by providing them with key skills and knowledge. To help students formulate and implement well-informed choices about their careers they deliver and manage numerous services, projects, courses and events. The Careers Service work in partnership with colleagues across The University of Manchester and with organisations across the UK.
Website: www.careers.manchester.ac.uk
12 Responsibilities of students
12.1 Student Charter
As an undergraduate student at The University of Manchester you are invited to sign up to the University's Student Charter.
12.2 Checking Blackboard and your University E-mail Account
The Division uses Blackboard as the central location for information about all student resources. You will be given training on how to use Blackboard in your induction. As a student you are advised to check Blackboard daily, as this is where the Division would post both generic and specific information relating to course units and programme. You will have access to course unit areas in Blackboard for the duration of the programme.
You are also required to check your university email account regularly as this is the agreed method of communicating with students. You will miss important information if you do not read your emails regularly.
12.3 Blackboard Student Community
The Blackboard Community Area has been developed to provide information regarding all course units within the programme. Each section has been structured to reflect your journey through the unit/programme.
13 Responsibilities of staff (further information)
Earlier in this handbook we outlined the role of some of the programme staff and provided some contact details where this was possible. This section will therefore provide a little more detail of some of these roles.
13.1 Academic Advisor
As previously mentioned, at the beginning of the programme, you will be assigned an Academic Advisor. Unless there are any staffing changes, your named Academic Advisor will remain the same for the duration of your programme of study. It is anticipated that your Academic Advisor will be the first point of contact for the majority of programme issues.
You will be notified of arrangements for your initial meeting with them where they will provide you with information about how and when they may be contacted. Some further guided group and individual meetings will be arranged and details will be communicated to you; however for all other meetings, it will be your responsibility to make contact/seek appointments with your Academic Advisor.
The specific role of the Academic Advisor is to:
provide you with pastoral support and guidance including advising you of sources of additional help available within the University;
give support and advice in relation to general study skills
As previously stated, as a minimum you should meet with your Academic Advisor once a semester, either online or face-to-face. You might meet more often than this, make contact through email, telephone or other modes of communication. You are also free to contact other members of staff for advice on urgent and non-urgent matters. The important thing is to stay in touch and let us know how we can help you.
You may request to change your Academic Advisor at any time by negotiation. If you feel there is a need to change your Academic Advisor, you should first discuss any difficulties/ problems with the Programme Director.
Your Academic Advisor may refer you to the other support services offered by the University, such as DASS and the Counselling Service (an extensive list can be found at www.studentsupport.manchester.ac.uk). You can also approach these services independently without the involvement of the programme team.
13.2 External examiners
External Examiners are individuals from another institution or organisation who monitor the assessment processes of the University to ensure fairness and academic standards. They ensure that assessment and examination procedures have been fairly and properly implemented and that decisions have been made after appropriate deliberation. They also ensure that standards of awards and levels of student performance are at least comparable with those in equivalent higher education institutions. External examiners are also consulted about proposals to change assessments and future assessment planning.
External Examiners' reports relating to this programme will be shared with student representatives at the BSc Public Health Programme Committee, where details of any actions carried out by the programme team, in response to the External Examiners' comments will be discussed. Students should contact their student representatives if they require any further information about External Examiners' reports or the process for considering them.
Please note that it is inappropriate for students to make direct contact with External Examiners under any circumstances, in particular with regards to a student's individual performance in assessments. Other appropriate mechanisms are available for students, including the University's appeals or complaints procedures and the University of Manchester Students' Union Advice Centre. In cases where a student does contact an External Examiner directly, External Examiners have been requested not to respond to direct queries. Instead, External Examiners should report the matter to their School contact who will then contact the student to remind them of the other methods available for students. If students have any queries concerning this, they should contact the programme team.
14 Assessment (including degree regulations)
This section reflects the academic-related regulations of The University of Manchester. The standard of the University's awards and the students' confidence in the equity and parity of the assessment of their work depends crucially on the scrupulous conduct of all matters relating to the assessment process.
The BSc (Hons) Public Health programme is bound by the undergraduate degree regulations of The University of Manchester valid at the time of the student's admission to the University. It is essential that you familiarise yourself with these regulations so that you are aware of the correct procedures to follow for all assessment matters.
The purpose of assessment is to form a judgement on the quality of your work, to ascertain and certify levels of achievement, and to enable examiners to report on the standard of performance reached by students.
Assessments are either formative or summative. Formative work is designed to help you meet the requirements of summative assessments. Summative assessments must be passed in order for an award to be conferred. Failure to pass all summative assessments will affect your progression through the course and may result in discontinuation of your studies. The programme uses a variety of assessment methods such as presentations, posters, and written assignments.
All theory summative assessments are classed as Certificate, Intermediate, or Honours level normally depending on your year of study. Certificate Level (FHEQ level 4) assessment normally precedes that of Intermediate Level (FHEQ level 5) which in turn precedes Honours level (FHEQ level 6).
The pass mark for all summatively assessed work is 40% unless stated otherwise.
You will be notified of any assessment updates through the Blackboard Student Community Area; it is important to check this information on a regular basis.
Systems are in place to support your progression throughout the programme. Please take time to read the rest of this section as it will guide you through relevant processes. If you have a problem or concern at any stage of the assessment process, it is beneficial to deal with issues as they arise by contacting your Academic Advisor in the first instance.
| | | |
| --- | --- | --- |
| Bachelors Degree classification weighted to 120 credits | Classification thresholds: weighted average (0 to 100 mark range) | Boundary zone weighted average |
| First class | 70.0 | 68.0 to 69.9 |
| Upper Second class | 60.0 | 58.0 to 59.9 |
| Lower Second class | 50.0 | 48.0 to 49.9 |
| Third class | 40.0 | 37.0 to 39.9 |
Information about the consideration of Bachelor Degree students within the boundary zone by mark distribution can be found in Appendix A of the degree regulations.
14.1 Assessment (credits)
The BSc (Hons) Public Health is structured as follows:
Year 1: 120 credits at Level 4
Year 1 assessments and examinations do not contribute to your final degree mark but you must still fulfil the University's learning requirements as the knowledge gained with assist you in your progression.
Year 2: 120 credits at Level 5
Second year assessments and examinations contribute 33% towards your final degree mark.
Year 3: 120 credits at Level 6
Third year assessments and examinations contribute 67% towards your final degree mark.
14.2 Preparing for Assessments
Thorough preparation for any form of assessment should enable you to reach your maximum potential. Formative feedback, the Study Skills resources and discussion with your Academic Advisor will help you plan your assessments effectively.
14.3 University requirements for Progression
The University sets requirements for progression from one part of the programme to the next. University Progression points occur at the end of each academic year and will determine whether or not you may progress into the next year of study.
University progression criteria require you to:
Reach the pass mark, at first attempt, in individual units totalling at least 40 out of 120 of the credits for that year, and
Reach the minimum pass mark overall
14.4 Completion
If you successfully complete all requirements for the BSc (Hons) Public Health you will be eligible for the award of an honours degree from The University of Manchester, in accordance with the University's Manchester 2020 strategic plan and the University's criteria for a Manchester Graduate, as set out in the Manchester Matrix of graduate attributes. You will be awarded one of the following, dependent upon the grades awarded for the assessments:
a) First Degree (1st)
b) Upper Second (2:1)
c) Lower Second (2:2)
d) Third/pass degree (3rd)
14.5 Guidelines for Assessment Course Work Requirements
Guidelines for assessed assignments are provided on Blackboard. Guidelines for each assignment will be discussed with you before the submission date. If you are seeking further guidance on marked work, you should review your feedback and contact the Course Unit Lead if further clarification is needed.
You must check each of your unit outlines very carefully to determine the course work requirements for that unit. It is strongly recommended that if you do not understand any aspect of an assignment or are otherwise experiencing some related difficulty you should contact the Course Unit Lead as soon as possible to discuss the situation. The self-recognition of academic limitations is not a point of failure. All tutors have a function to support students.
You must make a note of all submission deadlines for course work and make every effort to submit all your course work in on time. Penalties will be applied for failure to meet a submission deadline.
You need to submit each unit assignment via the online submission process. Alternatively, where online submission is not available another method of submission will be provided.
All submitted work should be accompanied by the relevant submission details completed by you, including your correct ID number and course unit code (beginning "POPH").
If personal circumstances affect your exams or assessments, or your attendance at teaching activities, you can make a request for mitigating circumstances. This includes extension requests on assessment deadlines. You should first seek advice from your academic advisor as to whether the adverse circumstances are sufficient to warrant consideration by the School of Health Science's Mitigating Circumstances Panel. The panel will assess each request, and where necessary take action to mitigate for any impact on your performance.
Assignments will usually be marked by a lecturer who has contributed to the teaching of the course being assessed, or another member of academic staff with expertise in the area being assessed.
Moderation should sample all fails, and a range of marks from the remaining scripts. The total number of scripts moderated should be at least 20% of all submissions.
You must note that any grade or mark which you receive prior to the
Examination Board is provisional, since the Board considers and makes final decisions on academic assessments.
Assignments are the equivalent of examination scripts and as such you should exercise care over your work.
You must reference your work appropriately using either the Harvard or Vancouver system. Further details regarding these methods of referencing are available here. Failure to submit a reference list will result in a mark of 0% being awarded.
If you submit an assignment which is outside the prescribed word limit / length you will be penalised by a reduction in the mark awarded. This may result in an assignment which would have been considered to be a pass being deemed to be a fail.
Do not write your name on any part of the assignment as the assessment process is supposed to be anonymous. All work submitted online will be given a deadline of 12 noon on the submission date. This is an absolute deadline.
You must gain an electronic receipt for the work to prove that you submitted the work on time.
Confirm in writing that the work being submitted is your own work and that it has not been plagiarised and has not been submitted for any other form of assessment anywhere else.
14.6 Word limits for written assignments
Each written assignment (such as an essay, project or dissertation) has a word limit. It is acceptable, without penalty, for you to submit an assignment within a range that is plus or minus 10% of this limit. The rationale for this is to provide a degree of parity for marking and moderating purposes and allow you to demonstrate a degree of academic discipline. It is often more difficult to know what to leave out than it is to know what to put in.
It is not the practice of examiners to count the number of words contained in every assignment. You should clearly state the number of words on the submission cover sheet. This word count should not include the reference list or any appendices.
If you present an assignment that exceeds the maximum word limit, a penalty of 1% per 100 words above that limit will be imposed.
In accordance with accepted academic practice, when you submit any written assignment for summative assessment in the format outlined above the notion of a word count includes the following without exception:
All titles or headings that form part of the actual text. This does not include the fly page or reference list.
All words that form the actual essay.
All words forming the titles for figures, tables and boxes, are included but this does not include boxes or tables or figures themselves.
All in-text (that is bracketed) references.
All directly quoted material.
14.7 Presentation of Assignments
Presentation is an important aspect of assignments. Poor presentation of assignments can result in poor marks. You are strongly advised to take heed of the following guidelines. Further aspects of assignment presentation can be obtained from Academic Advisors, Course Unit Leads, and the Study Skills resources.
All work submitted must be accompanied by the relevant submission details completed by you, including your correct ID number and course unit code (beginning "POPH"). This should be inserted into the header.
Each page must be numbered, preferably at the bottom centre position.
Each assignment must possess a reference list using either the Harvard or Vancouver system. You will incur a penalty for any assignment submitted without a reference list.
The specific requirements for assessments can be found in the individual unit guide.
14.8 Academic malpractice: plagiarism, collusion, contract cheating, fabrication or falsification
As a student, you are expected to co-operate in the learning process throughout your programme of study by completing assignments of various kinds that are the product of your own study or research. For most students this does not present a problem, but occasionally, whether unwittingly or otherwise, a student may commit what is known as 'plagiarism' or some other form of 'academic malpractice' when carrying out an assignment. This may come about because students have been used to different conventions in their prior educational experience, or they are not fully aware of what is expected of them.
This guidance is designed to help you understand what we regard as 'academic malpractice' and hence to help you to avoid committing it. You should read it carefully, because academic malpractice is regarded as a serious offence and students found to have committed it will be penalised.
Academic malpractice is any activity – intentional or otherwise – that is likely to undermine the integrity essential to scholarship and research. Academic malpractice includes plagiarism, collusion, fabrication or falsification of results and anything else intended by those committing it to achieve credit that they do not properly deserve.
In addition to the advice that follows, your programme team will give you advice on how to avoid academic malpractice in the context of your discipline. It will also design assessments so as to help you avoid the temptation to commit academic malpractice. Finally, you should take note that work you submit will be screened electronically to check against other material on the web and in other submitted work.
Information on Academic Malpractice and how to avoid it can be found on the Academic Malpractice webpage.
14.8.1 Plagiarism
'Plagiarism' is presenting the ideas, work, or words of other people without proper, clear and unambiguous acknowledgement. It also includes 'self-plagiarism' (which occurs where, for example, you submit work that you have presented for assessment on a previous occasion), and the submission of material from essay banks (even if the authors of such material appear to be giving you permission to use it in this way). Obviously, the most blatant example of plagiarism would be to copy another student's work. Hence it is essential to make clear in your assignments the distinction between:
the ideas and work of other people that you may have quite legitimately exploited and developed,
and the ideas or material that you have personally contributed.
14.8.2 Collusion
Collusion occurs when a student or students collaborate with another student or students, as an individual or group to gain a mark or grade to which they are not entitled. Students who allow another student to copy their work (or who make their work available to another student) are also committing collusion and both the copier and the provider of the work are liable to be penalised.
14.8.3 Contract cheating
The University of Manchester 'Quick Guide to Contract Cheating' defines 'contract cheating' as: "the practice of commissioning all or part of a piece of work by a third-party, or parties, without acknowledging the contribution". It often (but does not always) involves payment. The University of Manchester Academic Malpractice Procedure states "contract cheating may also include the use of crowdsourcing, where a student obtains content from, or allows editing by, others and fails to acknowledge the contribution. Contract cheating may most often be associated with summative and/or coursework assessments but may also be found in online examinations".
'Essay mills' are businesses which actively target undergraduate students. They may falsely present themselves as 'online tutoring' or 'student support' services. Essay mills may target students via social media, online searches or more directly to student email addresses. We encourage you to be vigilant and avoid these services. If you come across a service and you aren't sure if it is an 'essay mill' (or other similar business), you can report this to cheating.spam@manchester.ac.uk
14.8.4 Fabrication / Falsification
Fabrication or falsification of data or results by individual students or groups of students is the presentation or inclusion in a piece of work of figures or data which have been made up or altered and which have no basis in verifiable sources; this may or may not involve other instances of academic malpractice.
If you commit any form of academic malpractice, teaching staff will not be able to assess your individual abilities objectively or accurately. Any short-term gain you might have hoped to achieve will be cancelled out by the loss of proper feedback you might have received, and in the long-term such behaviour is likely to damage your overall academic development and self-esteem.
The University uses electronic systems for the purposes of detecting plagiarism and other forms of academic malpractice and for marking. Such systems include TurnitinUK, the plagiarism detection service used by the University.
As part of the formative and/or summative assessment process, you will be asked to submit electronic versions of your work to TurnitinUK and/or other electronic systems used by the University. If you are asked to do this, you must do so within the required timescales. Please note that when work is submitted to the relevant electronic systems, it may be copied and then stored in a database to allow appropriate checks to be made.
14.9 Assessment process
14.9.1 How to Submit Assessed Work
All assignments must be submitted by 12.00pm UK time (see World clock), on the date specified unless stated. Failure to do so will result in late submission penalties. All work submitted online will produce an e-receipt which you can keep for your records. If you submit the assignment late, then late penalties will be awarded.
It is your responsibility to ensure that you have read and understand the online submission guidelines prior to submission. Remember, you must obtain a receipt that verifies on what date the assignment was submitted. Unless an extension has been formally granted, work must be submitted on or before the published submission date. You are therefore encouraged to plan ahead and not leave the submission of work online to the last minute. We also recommend that you retain a copy of the assignment you submit.
14.9.2 Submission Dates
For details of submission dates, please see the 'Assessment area' on the course unit area on BlackBoard. Please note that university 'examination' periods are determined by the Central University Examinations team and will fall within the period specified on the assessments schedule unless otherwise stated. For information on late submission due to illness or other reasons please refer to the Mitigating Circumstances section of this document.
14.9.3 Late Submission Penalties
Any work that has been submitted after a deadline has passed is classed as late except in cases where an extension has already been agreed. There should be no discretionary periods or periods of grace. Work submitted at 1 second past a deadline or later will therefore be subject to a penalty for late submission. This guidance relates to first attempts only. If you submit referred ('second attempt') assignments after the deadline you will be automatically subject to a mark of zero. There is no sliding scale in operation for resits/referrals. There are no further resit opportunities for referred assignments that are submitted late.
No calculations are made for part-days. Any work submitted at any time within the first 24 hours following the published submission deadline will receive a penalty of 10% of the maximum amount of marks available. Any work submitted at any time between 24 hours and up to 48 hours late will receive a deduction of 20% of the marks available, and so on, at the rate of an additional 10% of available marks deducted per 24 hours, until the assignment is submitted or no marks remain.
The full 'late submission' policy can be found here: http://documents.manchester.ac.uk/display.aspx?DocID=29825
14.9.4 Mitigating Circumstances
Sometimes circumstances or events beyond your control may adversely affect your ability to perform in an assessment to your full potential or to complete an assignment by the set deadline. In such cases, mitigation may be applied, i.e. treating marks or results in a way that recognises the adverse impact that may have resulted from those circumstances or events, or waiving penalties that would arise from late submission.
Mitigation will not result in the changing of any marks, unless penalties for late submission are waived after an assignment has already been marked. Instead, mitigation may result in some marks being disregarded and the assessment being excused because it was adversely affected.
If personal circumstances affect your exams or assessments, or your attendance at teaching activities, you can make a request for mitigating circumstances. This includes extension requests on assessment deadlines. You should first seek advice from your academic advisor as to whether the adverse circumstances are sufficient to warrant consideration by the School of Health Science's Mitigating Circumstances Panel. The panel will assess each request, and where necessary take action to mitigate for any impact on your performance.
​Advice should also be sought as to whether it is in your interest to consider alternative remedies such as a deadline extension, re-scheduling of an assessment within a current assessment period (if possible), or submitting the assessment at the next available opportunity. In very serious cases, you might even be best advised to interrupt your studies for a period of time. It is important to remember that, in order to qualify for consideration, the adverse circumstances or events must be unforeseeable or unpreventable, and sufficiently disruptive to have a significant adverse effect on your academic performance or your ability to complete assignments by the due date.
Policy and Procedures on Mitigating Circumstances – The University has a generic policy regarding mitigating circumstances.
14.10 Marking criteria – guidelines for academic achievement
General Statements
Specific guidelines for each assignment will be issued by the course unit lead. However, a set of general marking criteria is in use across the Division and these apply to all academic work at undergraduate level. These are as follows:
General Statements which apply across all Levels
At every level you should apply presentation guidelines as set out in the programme handbook/guidelines for the assessment.
At every level you should adhere to the recommended method of referencing as set out in the programme handbook.
At every level you should demonstrate (as a minimum) knowledge/awareness of acceptable standards of practice.
At every level you are required to address the aims of the assessments as set out in the assessment guidelines.
You are advised to stay within the recommended word limit for written assignments +/- 10%. The penalty which may be levied for words in excess of this limit will be a ratio of 1% per 100 words.
The BSc Public Health programme uses The University of Manchester undergraduate generic marking criteria (outlined in the next section) to inform the grading criteria for its assessments. More details can be found in The University of Manchester Assessment Framework. The generic grading criteria will be considered alongside the specific criteria for that particular assessment, which usually requires the student to demonstrate they have met certain learning outcomes.
Undergraduate Marking Criteria (generic)
Grade descriptors: 40 -100% (PASS)
Mark range
Description
90-100
Work is exceptional and of sufficient quality to be awarded an upper-range first class mark. It attains all learning objectives for the unit and adheres to all guidelines. The essential material is presented thoroughly and accurately and weighed appropriately. Moreover, the work is authoritative and amply demonstrates very advanced knowledge and a very advanced ability to integrate the full range of principles, theories, evidence and techniques. The clarity and originality of thought and the way that it is expressed is very impressive for this level of work.
80-89
Work is outstanding and of sufficient quality to be awarded a mid-range first class mark. The response to the question is ambitious and perceptive. The argument is very well structured. It is logical and convincing. Extensive data and/or literature is used to support that argument and give very pertinent examples. A very high level of understanding of this topic is demonstrated.
70-79
Work is excellent and of sufficient quality to be awarded a lower-range first class mark. It has clear aims and largely achieves them. It draws upon an appropriately wide range of sources, displays considerable analytical depth with substantial evidence of genuinely independent thought, and is written and presented to a very high standard.
60-69
Work is very good, and of sufficient quality to be awarded an upper-range second class mark. It addresses the specific topic area very well, with a sound demonstration of knowledge and skills. There is evidence of appropriate independent reading and thinking and the literature is referred to coherently to substantiate claims. Work is comprehensive and well-considered.
50-59
Work is good, and of sufficient quality to be awarded a lower-range second class mark. The work demonstrates an understanding of the relevant principles, theories, evidence and techniques, and goes some way to presenting a coherent argument in a competent manner.
40-49
Work demonstrates sufficient knowledge, coherence, use of appropriate resources and quality of presentation to warrant a basic pass. The answer provided lacks detail and depth. It is very descriptive and does not fully address the issues raised by the question. The arguments are often simplistic.
Grade descriptors: 0-39% (FAIL)
Mark range
Description
30-39
Work does not merit a pass mark. It demonstrates insufficient knowledge and skills in the specific topic area. The work does not demonstrate adequately the study skills required at this level. Although some awareness of the area is shown, many important facts and concepts are missed with major errors. There is no attempt to critically evaluate evidence and no evidence of independent research. The work has minimal underlying structure and is frequently confused and incoherent.
20-29
Work does not merit a pass mark. It demonstrates only a basic awareness of the subject matter. Awareness of principles, theories, evidence and techniques is insufficient, and there is little evidence of critical engagement with the material. There has not been sufficient attention to the quality, range and appropriateness of sources used, and arguments are partial and unsubstantiated.
10-19
Work does not merit a pass mark. There is little or confused awareness of the appropriate principles, theories, evidence and techniques, and little evidence of critical engagement. Arguments are poorly presented and misrepresent or fail to demonstrate an understanding of the subject. Use of sources is inappropriate and arguments are unsubstantiated and unstructured.
0-9
Work does not merit a pass mark. The thinking in the discipline is misrepresented or misunderstood and the use of sources is either non-existent or inappropriate. The work does not demonstrate any significant awareness of the subject matter. The work is confused and incoherent and does not address the question posed.
The level descriptors will increase incrementally each year of the programme according to the academic level 4, 5 or 6. All marking will reflect the descriptors and marks will be allocated from 0- 100%.
The full marking criteria are available in each course unit's 'Assessments' area on Blackboard. You are encouraged to familiarise yourself with the descriptors to gain a better understanding of the academic level required of your assessments for each year of the programme, as well as understand how marks are awarded according to the descriptors.
14.11 Academic appeals and student complaints
14.11.1 Academic Appeals
Students have a right of appeal against a final decision of an Examination Board, or a progress committee, or a graduate committee or equivalent body which affects their academic status or progress in the University.
Students thinking of appealing should first discuss the matter informally with an appropriate member of staff, in order to better understand the reason for the result or decision and to determine whether the matter can be resolved informally by the School prior to making a formal appeal.
Should you wish to proceed to a formal appeal, this must be submitted within the timeframe outlined in the Academic Appeals Procedure to the Faculty Appeals and Complaints Team, Room 3.21, Simon Building, University of Manchester, M13 9PL (e-mail: FBMHappealsandcomplaints@manchester.ac.uk).
The Academic Appeals Procedure (Regulation XIX) and associated documents, including the form on which formal appeals should be submitted, can be found at www.regulations.manchester.ac.uk/academic/basic-guide-academic-appeals.
14.11.2 Student Complaints
The University's Student Complaints Procedure (Regulation XVIII) and associated documents, including a complaints form, can be found at www.regulations.manchester.ac.uk/academic.
The University has separate procedures to address complaints of bullying, harassment, discrimination and/or victimisation – see www.reportandsupport.manchester.ac.uk.
Students thinking of submitting a formal complaint should, in most instances, attempt informal resolution first (see the procedure). Formal complaints should be submitted on the relevant form to Faculty Appeals and Complaints Team, Room 3.21, Simon Building, University of Manchester, M13 9PL (e-mail: FBMHappealsandcomplaints@manchester.ac.uk).
15 Conduct and Discipline of Students
The University Library has produced online resources to help students in avoiding plagiarism and academic malpractice at:
https://www.library.manchester.ac.uk/using-the-library/students/training-and-skills-support/my-learning-essentials/online-resources/
16 Dignity at Work and Study
The University seeks to create a study environment which is free of harassment, and which protects the dignity of all students irrespective of sexual orientation, racial or ethnic background, religion, or disabled status. It regards sexual, racial, or personal harassment as most serious and requires all students to observe its policy in this area. Personal harassment takes many forms. It is uninvited and unwanted actions which cause offence and/or embarrassment, fear, stress, or tension. It can be an isolated act such as a comment or wilful gesture, or it can take the form of repeated behaviour against a person.
In cases where a complaint of harassment is substantiated, the individual responsible may be subject to disciplinary action under General Regulation XVII (Conduct & Discipline of Students).
The University Policy Statement on Dignity and Work and Study for Students is available in The A-Z of Student Services. This contains details of the University Resources, policies and procedures and will be given to all students at registration. If you prefer to access the full university policy on-line it is located here: University Dignity at Work and Study Policy.
17 Part-time work
We recognise that part-time work is a necessity for many students. However, you are advised to think carefully about how you will balance work your studies with the demands of part-time employment and to arrange the hours you work accordingly. The Division is not able to provide character references for part-time employment undertaken during a programme of study; but will provide details of your programme of study.
18 Social networking
It is important that students are aware of both the benefits and potential dangers of social networking. This section suggests ways in which your personal and professional interests, and those of others, can be protected while in the online environment.
What are social networking sites used for?
Social networking is a popular online activity: millions of people of all ages and backgrounds use social networking sites every day, online social networking sites, such as Facebook, Twitter, TikTok and Instagram are used:
To keep in touch with friends, both in words and through sharing music, video and other types of files (YouTube is also used for sharing videos, and Flickr for sharing images online).
For educational and professional benefit, through sharing information about the latest developments in treatments and practice, problem-solving, encouraging participation, and community building.
To forge new relationships based on common interests.
To make their views and opinions known.
To take part in discussions on virtually any subject.
People often interact with social networking sites over long periods of time and, occasionally, excessive activity of this nature may have detrimental effects on their work or study.
What is the social networking environment?
It is important to remember that social networking sites are public and therefore, in theory, accessible to anybody. In many cases, ownership of the material posted on them belongs to the site, not the person who posted it, and so sites such as Facebook are free to use it in any way they see fit. Material posted online remains there permanently, if not as part of an active page then as part of easily-accessible 'cached', i.e. historical, versions of it.
Who visits social networking sites, and why?
Anybody can visit social networking sites and gain access to the information that is uploaded to them. These people include:
Your intended audience, i.e. your friends, colleagues and others, to share information and to keep in touch.
Potential employers, who are, increasingly, using social networking sites to gather information about people who have applied for positions within their organisations.
Criminals, including sexual predators who could use information about you to compromise your safety or wellbeing, and fraudsters, who could steal information about you and impersonate you online, to your potential cost.
The police, as part of investigations into illegal activities.
What precautions should be taken when social networking?
The same ethics, morals and penalties apply to online social networking as to any other activity. Students from Divisions in the Faculty of Biology, Medicine and Health should therefore conduct themselves appropriately online, and take reasonable precautions to ensure that the information they upload cannot be used in a way that could place them, or others, at a disadvantage, either personally or professionally, now or at any time in the future.
Misuse of social media
The University does not condone any form of harassment or discrimination, online or offline, and inappropriate social media use may result in action being taken under the Conduct and Discipline of Students regulation.
Disciplinary action brought against you by the University could, in serious cases, lead to suspension or expulsion. Where conduct may be an illegal criminal offence, the University may report the matter to the police. Beyond that, any member of staff, student or third party may pursue legal action against you, if they choose to do so. Students accessing social media using the University's IT facilities or services must also abide by our IT Regulations and Acceptable Use Policy.
Cyber bullying
The University is strongly committed to equality, diversity and inclusion and has zero tolerance to any forms of harassment and discrimination by students, members of staff, or other members of the University community.
The following examples illustrate the types of behaviour, displayed through social media communications, which the University considers to be forms of cyber bullying:
Maliciously spreading rumours, lies or gossip.
Intimidating or aggressive behaviour.
Offensive or threatening comments or content.
Posting private images of an individual without consent (including, but not limited to, private sexual images of an individual).
Sharing unwanted images (including sexual images).
Posting comments, photos, etc; deliberately mocking an individual with the intent to harass or humiliate them.
Sending messages or posting comments with the intent to trick, force or pressure the receiver into doing something that they would not otherwise be comfortable doing (grooming).
Cyber bullying may also take place via other means of electronic communication such as email, text or instant messaging.
If you see something on a social media site that concerns you, you can report it to the social media platform directly who will likely pass the complaint to the person who set up the space or group. If it concerns the University, or a member of the University community, please use Report and Support to make a formal complaint about the conduct of our staff or students and to access support services related to harassment and discrimination. Anyone who is experiencing cyber bullying by a University student or member of staff, will have the full support of the University.
The Students' Union are also able to offer support and guidance.
The following pointers may be helpful:
Do everything that you can to limit access to your posts to those for whom they are intended. Change security settings if possible to restrict unwanted access.
Consider the language and terminology that you use when you are online and make sure that it is appropriate.
Avoid posting personal information such as phone numbers or personal addresses, of you or anybody else, since these may fall into the hands of criminals.
Use your common sense. If you feel that a post, a picture, or a video that you are about to upload might have repercussions for you later, or might not be in good taste (e.g. it relates to sexual activity or inappropriate behaviour, or it expresses inappropriate views), then simply do not post it. Once it is online it is there for good.
Make sure you are thinking clearly before you go online. If, for any reason such as the effects of medication, stress or inebriation, your judgement might temporarily be impaired, you may be tempted to post something that you otherwise would not.
Do not post material that might be considered offensive and/or derogatory, that could cause somebody else to feel bullied, harassed, or that could harm somebody's reputation. If you have a grievance about an individual related to your programme, follow it up through the recognised channels in the Division, Faculty and/or the wider University.
Avoid posting confidential information about patients, clients and service users that could violate professional codes of conduct.
It is imperative that if you post anything about somebody else, including any images of them, it is done with their knowledge and consent. It might seem inoffensive to post images of friends, relatives, staff or other colleagues, but it might easily cause offence that you had not intended or could not have foreseen.
Try to make sure that the people to whom you give access to your information use it sensibly, and also that they themselves do not upload potentially incriminating material about you, which can be just as damaging.
Avoid joining any groups that could be seen as discriminatory or judgemental in nature.
Are there any related policies and guidance in the University?
The University's Conduct and Discipline of Students (Regulation XVII) document states that a student may be liable to disciplinary action in respect of conduct which, amongst others:
"involves violent, indecent, disorderly, threatening or offensive behaviour or language (whether expressed orally or in writing, including electronically) whilst on University premises or engaged in any University activity" and "involves distributing or publishing a poster, notice, sign or any publication which is offensive, intimidating, threatening, indecent or illegal, including the broadcasting and electronic distribution of such material".
Regulation XVII also states that:
"the conduct covered (above) shall constitute misconduct if it took place on University property or premises, or elsewhere if the student was involved in a University activity, was representing the University, was present at that place by virtue of his or her status as a student of the University or if the conduct raises questions about the fitness of the student on a programme leading directly to a professional qualification or calling to be admitted to and practise that profession or calling."
The University of Manchester's Dignity at Work and Study Policies and Procedures give information about the nature and consequences of acts of misconduct while social networking, such as discrimination, bullying and harassment, and the penalties that they may incur. These policies should be read in conjunction with this guidance. The University's Dignity at Work Procedure for Students states:
"Any cases of harassment, discrimination and bullying will be taken very seriously by the University and, where necessary the appropriate procedure will be used to investigate complaints. Similar arrangements will be used in dealing with complaints made by members of staff or by visitors to the University."
"Cases of proven harassment, discrimination or bullying may be treated as a disciplinary offence where it is not possible to reach a compromise or resolution. Some cases of harassment, discrimination or bullying if proven could result in dismissal for staff members or expulsion for students."
In addition, the University's A-Z of Student Services states:
"The University expects its members to treat one another with respect. There are established procedures to use if you are dissatisfied with any aspect of the University's facilities and services, and you are encouraged to use these procedures to bring such matters to the University's attention. Inappropriate or defamatory comments about either the University or its members in any media (print, broadcast, electronic) contravene the University's regulations and offenders may be liable to disciplinary action."
What conclusions can be drawn from this?
If the way you conduct yourself online breaks laws, then you risk the same penalties as you would in any other setting.
Summary disciplinary panel
It is expected that students maintain good academic practice during their studies at the University. Academic malpractice is a type of misconduct which can be subject to the University's disciplinary process:
http://www.regulations.manchester.ac.uk/academic-malpractice/
The University is committed to encouraging and educating students in good academic practice and various courses and support are available to help students maintain good academic practice, this includes the online resource 'My Learning Essentials':
http://www.library.manchester.ac.uk/using-the-library/students/training-and-skills-support/my-learning-essentials/online-resources/.
In cases where an allegation of academic malpractice has been made, a referral may be made to the School of Health Sciences Summary Disciplinary Panel or the Faculty of Biology, Medicine and Health Summary Disciplinary Panel in line with the University's "Academic Malpractice Regulations" and "Procedure for Summary Disciplinary Panels".
19 Student Progression
19.1 Student attendance, engagement and wellbeing
On the BSc Public Health programme you will have the option to attend sessions on-campus or online.  Student engagement also includes independently working through the online course material, participation in discussion boards and the completion of assessed work.
The University of Manchester is gradually introducing 'My Attendance', a new system to record and monitor students' attendance at timetabled learning activities. Your programme team will get in touch when you need to start using it. Using My Attendance, you 'check in' to register your own attendance at timetabled activities and you can see your attendance record. Staff can see and edit your attendance record if needed.
Recording attendance will help us see where students might be struggling and offer support. It will also help us make sure everyone is meeting their attendance requirements – for example if your attendance is required for your student visa or professional accreditation. This new system is more efficient than other attendance monitoring such as paper registers, saving resource so we can better support you in other areas.
When your programme starts to use My Attendance, your programme team will remind you of any attendance requirements that are in place – and what will happen if you don't meet these requirements. If you're not sure of your attendance requirements (if any), you should contact your programme team.  For example, you may already be required to attend certain activities, or you may have a DASS support plan that includes recommendations for your attendance. Overall student attendance and engagement will therefore be monitored throughout each semester. On occasion, follow-up action may be taken.   Some examples are provided below:
A pattern of student non-engagement is emerging and there is concern for student wellbeing and/or academic progress.
A student is not meeting his/her attendance requirements as part of their visa.
If you are unable to attend an education session (either online or face-to-face), please notify your Academic Advisor at the start of your period of absence. Please also ensure your MyAttendance record is updated accordingly. You should also notify your Academic Advisor of any sickness or absence affecting your attendance.
The role of the Academic Advisor in student engagement monitoring is a supportive one, to ensure that you are well and engaging with the programme. Academic Advisors will treat cases of reduced engagement on an individual basis but would normally complete a 'student engagement review' and agree a range of actions with you. These may include regular meetings, signposting to different sources of support referral or revisiting programme guidance on the attendance requirements.
The department differentiates between authorised and unauthorised absence from the programme. Absence from the programme can be authorised due to documented sickness, or by an Academic Advisor or for other reasons.
19.2 Interruption or Withdrawal from the Programme
It is the expectation that you will pursue your studies on the BSc (Hons) Public Health programme on a continuous basis for the duration of your programme, and complete within 3 years of commencement. It is recognised however that you may encounter unforeseen circumstances which may significantly disrupt your studies and prevent you from completing the programme in the normal timeframe. If you are experiencing uncertainty about your position on the programme, you should contact your Academic Advisor for advice and support in the first instance.
If you are considering withdrawing from the programme, you are strongly advised to speak to your Academic Advisor immediately as they may be able to present an alternative perspective on your situation and will certainly be able to offer advice on how to proceed. It may be the case that you choose to interrupt your studies rather than fully withdraw.
If, for whatever reason, you have firmly decided to withdraw from the programme, please inform your Academic Advisor as soon as possible verbally and in writing (e-mail is sufficient).
19.2.1 Policy for Pregnant Students
If you become aware that you are pregnant you should initially inform your Academic Advisor. We understand that all student circumstances are different and student support needs will vary.
Maternity leave
Students may interrupt their studies for the purpose of maternity leave at any time from 28 weeks of the pregnancy for a maximum period of 12 months during their degree, subject to approval from the School or Faculty. The period of leave must be taken in one consecutive block.
Applying for maternity leave
Students should discuss their maternity leave arrangements with their Academic Advisor in the first instance. The student together with the staff member should consider the implications of any leave of absence in terms of the academic requirements of the student's programme of study. The interruptions policy will also need to be followed as extant within undergraduate programmes. Prior to any period of interruption, students will need to meet their Academic Advisor and the Programme Director to formalise and agree the interruption. Financial information for Student Parents can be found here.
Paternity leave
A total of two weeks paternity leave may be taken at any time during a partner's pregnancy or within three months following birth. The student must request the permission of the School for this absence. Schools are expected to take a flexible approach towards partners who wish to attend antenatal appointments.  Similarly, if a student needs to take time off due to complications with their partner's pregnancy, or pregnancy-related illness, Schools should try to be as flexible as possible.
Students with caring responsibilities
​A carer is anyone who cares, unpaid, for a friend or family member who due to illness, disability, a mental health problem or an addiction cannot cope without their support. These caring responsibilities can be short or long term, but are nevertheless exceptionally challenging. The University of Manchester has provided a number of support services students can access, both within the University and externally. If you feel your caring responsibilities are affecting your studies, please contact your Academic Advisor in the first instance.
19.2.3 Interruptions Policy
Where circumstances significantly disrupt your ability to engage with the programme, a temporary interruption may be granted at the discretion of the programme team. There are two categories of interruption:
Interruption by student request (including maternity leave)
Interruption by Divisional committee (including Health & Conduct Committee or by the Programme Director)
In each case, the programme's nominated individual (normally the Programme Director) would design a personalised return-plan to give you the opportunity to complete the programme at a later date. The date of return is normally dictated by the scheduling of units that you need to complete.
Whilst on interruption you will have a status of 'Leave of absence'. This means that depending on the length of your interruption, you will lose access to Blackboard and will have limited access to the Library and other University facilities. You will however have continued access to your IT account, student email and MyManchester.
Taking an interruption will affect the financial support available, fees and immigration status, as outlined in the University Guidance for students on Interruptions to Undergraduate and Postgraduate Taught Programmes of Study.
Interruption by Student Request
If you feel that you would benefit from a leave of absence from the programme for any reason, you should initially discuss this with your Academic Advisor. You are encouraged to be proactive in accessing support, advice and guidance from your Academic Advisor, the Disability Support Office or Student Support Office as may be beneficial. Please also see the University Guidance on Interruptions.
Formal requests for interruption are made by meeting with your Programme Director (or their acting deputy) to complete an 'interruption request'. If you are requesting interruption, you should provide third-party evidence of your circumstances to enable the programme to fully consider whether an interruption is the best course of action for you.
Documentation submitted in support of an interruption may be shared with the programme staff to apply the mitigation circumstances policy to assessments affected by the circumstances leading to your interruption. Once used, evidence will be treated confidentially and kept on your file.
Once agreed, details of your interruption will be emailed to your university email address. You will receive an email from the Programme Director which will include advice and guidance on the practicalities of interrupting and a personalised return plan. As stated above, support and guidance on the interruptions process is available via a number of means including Programme Directors, Academic Advisor and Student Support. It is important to ensure that all cases for interruptions are dealt with in an efficient and proactive manner as future tuition fee and/or other funding may be affected.
Returning from Interruption
Once on interruption, it is your responsibility to keep in contact with the Academic Advisor and confirm your intention to return to the programme. You will be given specific instructions for confirming your intention to return in your interruption approval letter; but will be required to give adequate notice to your Academic Advisor to make administrative arrangements for your return. Returning from interruption may be subject to conditions set by the Programme, including academic progress. Where a return from interruption is conditional, this will be clearly indicated in the interruption approval letter.
If you interrupted for health reasons, you must submit evidence from a medical professional before your return that you are now well enough to resume your studies. We may refer you to the University Occupational Health Department so this can be confirmed and we will arrange this before your return date. We will also arrange for you to meet with your Academic Adviser to discuss ongoing health needs. We may also refer you to the Disability Advisement and Support Service (if you are not already registered with them) if your condition is ongoing.
If you are re-starting the year or semester, you should be aware of the dangers of self- plagiarism especially in relation to larger pieces of written work. Self-plagiarism is essentially re-using all or part of your own work that you have already submitted as a coursework assignment. The same is true if you submit a piece of work that you completed LAST YEAR for an assignment during the CURRENT academic year, and if you submit it for an assignment in the same unit.
19.2.4 Tuition Fees whilst on interruption
Such a change in circumstances may have implications for your student finance and accommodation so we strongly recommend that you contact your Student Finance company and the University's Student Services Centre for full details of how you will be affected. If you are in receipt of a student loan it is your responsibility to contact Student Finance UK to suspend your student loan.
You will not be charged fees during your interruption. If you are self-funding, and have overpaid fees i.e. for a period longer than your interruption date, you can request a refund or have the portion saved for next year. You should speak with the Student Services Centre for further information
20 Closing comments
Thank you  for reading the programme handbook. Please continue to access this handbook as required, as you work through the programme. We would like to reiterate our welcome and support for you at every stage of the programme, and we hope you enjoy your undergraduate experience at The University of Manchester.
Best wishes,
The BSc Public Health Programme Team