School of Biological Sciences – Your eLearning Handbook
Contents
FAQ's (Frequently Asked Questions)
My grades
Introduction to eLearning
What is eLearning?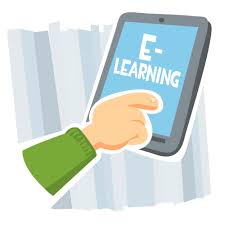 As a student at the University of Manchester, you will find that many (if not all) of your units contain sections of work that you have to complete online (known as eLearning). The university uses a Virtual Learning Environment called Blackboard.
Having parts of your course online means that it is easy to fit your learning into your everyday life, as you can complete the work from almost any internet connected computer in the world 24 hours a day 365 days a year. Completing each eLearning module should help you to understand each topic's content, meaning that when you revise your courses, your exam revision will be more productive. Meeting the deadlines for each learning module will help you to develop your time management skills.
As with all university work, strict deadlines are enforced, therefore you must ensure that you complete your work in plenty of time before the deadlines.
Technical help from the eLearning team is available 9am-5pm on all working days. This is accessible by clicking the 'Technical Support' button on the left hand side of the screen within each of your Blackboard courses and then choosing 'eLearning enquiry', the eLearning team will reply to your university email address within 1 working day.
Every Blackboard course is different, so it is best to read the rules regarding the course before you start, to make sure that you don't miss any work.
More information on eLearning in the School of Biological Sciences is available on the individual courses.

Definitions
Unit/Course – This is the overall unit, e.g. "BIOL10212 Biochemistry" is a unit/course, it will consist of lectures and additional learning such as the eLearning resource.
eLearning resource – The Blackboard component for a particular unit is called the eLearning resource, which consists of one or more types of resource, such as lecture resources (see below), assessments, web links, media resources, etc.
Course Content – Material that the lecturer wishes to make available to you will be classed as a Course Content/lecture resources, and can be found in the Course Content section of your Blackboard course. Lecturers are not obliged to provide you with a copy of their lecture notes. Course Content may be updated at any time, therefore you should regularly check this area.
Learning module – Some eLearning resources are divided up into learning modules. Learning modules are like topic areas, they may contain information surrounding a particular topic/set of lectures, tasks/activities, further reading recommendations, and assessments.
Information about the Blackboard System

Every course that you take will have an associated Blackboard course. The Blackboard online courses will become available one week before teaching starts (semester 2 courses become available in semester 2). Only students registered to a unit will see the Blackboard course. If you are not fully registered for a unit, you will not see the Blackboard course. In cases where you change your units, it will take about 48 hours for your units to change on Blackboard.
At the end of the re-sit period each year, your teachers will review content on your unit in order to see whether or not it is suitable to remain available until you leave the university.  You should take a copy of any content or feedback that you wish to keep before this time, so that you can revise from it. Things like assessments and discussions in particular may become unavailable.
During the summer months there will be a few days during which the Blackboard system will be switched off for essential maintenance. Details of the exact dates will be circulated closer to the time.
How to get into Blackboard and your Courses
You can access Blackboard via two routes:
Directly via online.manchester.ac.uk
Via "My Manchester": my.manchester.ac.uk > Blackboard
Once you have entered the Blackboard system you will see a list of courses that you are currently fully registered for. Click the title of these courses to enter a course.
Navigating Blackboard Courses
Most courses you take will use the standard navigational menu indicated on the right. Click within the list to access the sections of content you require.
Notice board: This is often the entry page to the unit and can tell you if there have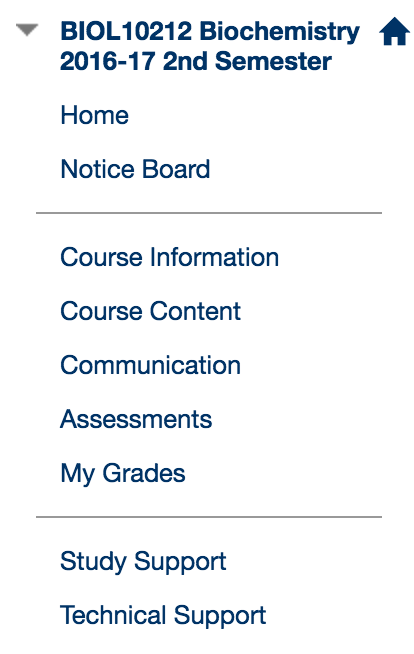 been any updates to the course since you last entered.
Course Information: Here you can get basic information about the course, such as teaching staff contact details and information about how the course is assessed.
Course Content: This is where your lecturers will upload files for you to download, such as lecture notes. In some courses you will find links to podcasted lectures.
Communication: Many units contain discussion boards that allow you to converse with others on the course.
Assessments: Access your assessments and information about your assessments via this link.
My Grades: When grades are available to you from your assessments, they will appear in this section. You can also access any available feedback that your tutors have provided. Occasionally you may find essay feedback available via the essay submission area (likely to be located in "Assessments") instead.
Study Support: Here you will find useful information that is not course related. Such as quick links to the Library and past papers.
Technical Support: This is where you gain help from both the eLearning Team or IT services.
Types of Assessment
Each assessment has specific settings and rules and may differ from your other units. Before you start your assessments you should read all the information in the 'Course Information' and 'Assessments' sections (in the left hand menu) for each Blackboard course.
Who to contact if you have problems with your eLearning

If you have a problem with something on a Blackboard course unit, you should ask the unit coordinator or post something onto the units discussion board.
If you have a problem with more then one unit, you should contact the SBS Student Support Office for help.
When to contact the Student Support Office:
You have a technical problem with one or more of your courses.
You think that an assessment question has been graded incorrectly/feedback is incorrect, or academic content is inaccurate.
You have a problem with eLearning work such as assessments.
If you find that there is a wider problem with the Blackboard system, you have the opertunity to contact the eLearning team who support Blackboard in the faculty.
There are 2 main ways to contact the eLearning team:
Via the 'Technical Support' link in the left hand menu of all Blackboard units, then choose 'eLearning Enquiries'. This will take you to the Enquiries form. Once submitted, the team will reply to your university email address within 1 working day.
If Blackboard is unavailable, email elearning@manchester.ac.uk with the subject line "FAO: BMH eLearning".
Submitted Enquiries
When filling in an online enquiry form, please ensure that you give as much detail as possible about the problem (i.e. error messages, details of which Blackboard course your enquiry is about, etc.) so that the enquiry can be dealt with promptly.
You must NOT supply us with your University login password; University of Manchester policy states that this password must remain completely private to you.
When an enquiry is successfully submitted, a "confirm submission" page is displayed and a reference number is assigned; you should record this number in case of a problem. If no reference number is assigned, the request has not been submitted correctly and the form must be re-submitted.

Etiquette
All submissions via the enquiries form are dealt with by the the Student Support Office (studentsupportoffice.sbs@manchester.ac.uk), therefore (as when contacting any member of university staff) appropriate email etiquette should be adhered to, including language styles (for example, excessive use of capitalisation, exclamation marks etc, is considered inappropriate).
Response to Enquiries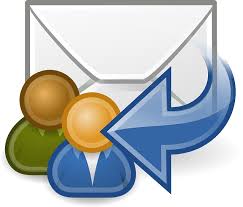 Your ticket will be responded to within 1 working day, but resolution of problems may require more time. If no response is received within 1 working day, the enquiry form should be resubmitted with the information and the original request reference number for investigation.
NOTE: 1 working day is 9am-5pm Monday to Friday, excluding Bank Holidays, Christmas and Easter shutdown etc. Requests sent after 5pm on a Thursday are not guaranteed to be dealt with before the Friday deadline, and any requests submitted after 5pm on a Friday will not be accessed until the following Monday at the earliest.
The Student Support Office will do everything possible to resolve issues before a deadline, however, high numbers of requests and late requests means that any request submitted after 5pm on Thursday (that is 1 working day before the deadline) may not be resolved before the deadline (assessments missed due to late request submission will not be eligible for extensions). Re-submission of requests within 1 working day will not increase response time. However, enquiries that are submitted before 3pm on a Friday may be resolved before the deadline, therefore you should keep checking Blackboard and your emails up until the deadline.
If you have submitted a request you must check your University of Manchester email inbox for the reply (replies will not be sent to any other personal email addresses). You must ensure that you look out for this email and read it immediately when it comes through. This will tell you what action has been taken and what you need to do next.
Blackboard Announcements, email Announcements, Blackboard emails and Discussion Boards
Your unit co-ordinators, and the Student Support Office will send out important information via Blackboard Announcements, Blackboard emails or via regular email. Do NOT assume that emails sent to you that look like blanket announcements are unimportant, as they frequently contain vital information. It is your responsibility to read all communications to you, the university will not accept a "lack of knowledge" due to you not reading emails and announcements as a reasonable excuse.
Completing Online Work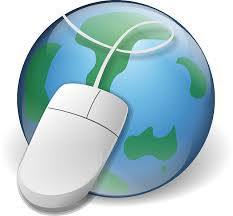 Deadlines for Unit Based Work
All eLearning assessments aim to have deadlines of Friday at 16:00:00 on the allocated dates (unless specifically stated otherwise on Blackboard). Start dates can vary, but assessments are open for a sufficient length of time for you to be able to complete them.
The start and deadline dates for all assessments are found in several places:
In the Assessments area of your Blackboard courses
In your Blackboard calendar which can be found in the navigation menu (click on your name whilst you are on the course list page after logging in to http://online.manchester.ac.uk)
eLearning assessments should be attempted well in advance of the deadline, as failure to complete due to a problem close to the deadline (technical, illness, etc) will not permit you a second chance at the assessment or any compensations/exceptions.
Early completion of assessments ensures that any technical difficulties can be addressed prior to the deadline and ensures that you do not have too much work to do on the deadline day.

eSubmission of essays and Write ups
When you are required to submit some form of online essay (practical write ups/dissertations/etc), you will most likely be uploading an electronic version of your write up into Blackboard and the TurnItIn service. In these cases you should refer to the information you have been provided about the submission (such as deadline days/time etc).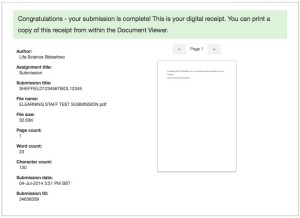 Unless you are informed otherwise, you should make all eSubmissions in PDF format. The standard file naming convention is markerssurname+Librarycardnumber+ Unitcode (ie. SHEFFIELD7654321BIOL10000). Note; failure to use the correct file names may result in loss of anonymity during the marking process. You should always take a screenshot or PDF copy of your submission receipt as proof of submission.
All major eSubmissions that you are required to complete come with tailored instructions, read these carefully before submitting your work.
Most essays that you submit will be returned to you with marks and feedback (on a date specific to each piece of work). To access the feedback for your essays, return to the initial submission area and click the button that allows you to view your essay, if the feedback has been released you will see comments that your markers made on your work.

Assessments during Vacations
Blackboard courses and Calendars must be checked prior to vacations and you should know when assessments or eSubmissions are coming online and going offline. Some assessments may open or close during reading week, the Christmas break, Easter, or after the last teaching week. Such assessments will also be open for at least 1 week during normal teaching time. Claiming lack of knowledge of deadlines will not be grounds for second chances/extensions. It is your responsibility to organise and monitor your learning and ensure that work is completed to deadlines.

Missing an assessment / Losing marks/Accidental submission
If you miss an assessment you will receive 0% for the missed work. You will not lose any of the other marks you have achieved, and you will still be able to achieve marks on subsequent assessments.
All major eSubmissions contain penalties for the late submission of your files. For details of what penalties apply, please consult the information you have been provided about the individual submission.
Claims of accidental submission of work are rarely given weight due to numerous safeguards in place in the submission process.

Blackboard timing out
If you are completing an assessment remember to save your answers to each question as you go along – this should prevent you timing out. If you do time out or get logged out for any other reason, you will be able to go back to the assessment and your answers will have been saved (if you do not press the save button, you will lose your answers).
Discussion Boards
Discussion boards are used to discuss any aspect of units with colleagues. Peer-peer learning is an excellent tool; however, most importantly, answers to assessment questions must not be posted. These boards are closely monitored and any postings deemed inappropriate or that contain answers to assessments will be removed. Seeking or posting assessment answers is cheating and any person found doing this will be dealt with appropriately.
Checking the discussion boards is an essential part of your learning. If there is a problem with a question a notice will be posted here regarding the problem, as well as any appropriate action the academic staff are taking to resolve it.

FAQ's (Frequently Asked Questions)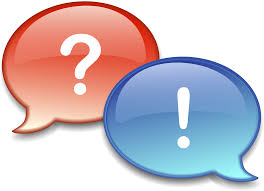 How do I access Blackboard?
Your main route of access to your online learning resources is via the link http://online.manchester.ac.uk, alternatively you can access Blackboard via your "My Manchester" student portal:
>Log into My Manchester
>Click on the "Blackboard" tab
>Click on the link to the Blackboard course
If you cannot access your Blackboard through either of these methods, you must contact the Student Support office immediately.

I cannot access my assessments, how can I access this week's work?

Have you checked the date list in the unit to see which assessments should be available to you at this time?
If you are still having problems/find an assessment to be closed when it should be available, please contact the unit coordinator immediately. You should provide them with details of the unit(s) you are having the problem with.

I missed the deadline for my assessments, what should I do?
If you were ill or absent for a significant period of time (before and including the deadline day) you must take your doctor's note or other documentation to the Student Support Office and fill in the appropriate forms, and talk to the Student Support Office about what action to take. Without documentation you cannot be considered for mitigating circumstances (See the first year handbook).
If you have missed a deadline without acceptable cause, you will achieve a score of 0% and not get another chance to complete it. Further assessments will still be available to you. You will not lose any previous marks obtained.

I will be absent from university for a significant time due to circumstances I cannot control, this means that I will miss one or more assessment, what should I do?
Report your circumstances to your Academic Advisor as soon as possible.
Contact the Student Support Office and tell them which assessments you are likely to miss and why. Circumstances are assessed on a case by case basis and you will be supported appropriately to your circumstances.
Provide appropriate paperwork to the Student Support Office within one week of the absence. (See guidance in the first year handbook).

I submitted an query to the Student Support Office but have not received a reply, what should I do?
Did you submit the request less than 1 working day ago? If so, do nothing; you will get a reply within 1 working day. If it was more than 1 working day ago, please submit another request and in this quote the reference number from your previous request. Please remember that the the Student Support Office work office hours, therefore if you submit a request after 5pm you will not receive a reply that day. If you submit a request after 5pm on a Thursday, it is possible that you will not receive a reply until the following Monday, thus you may miss the Friday deadline.

Can I have an extension for the assessment I missed?
If you miss the deadline, you will not be awarded an extension. If you do miss a deadline and have supporting documentation, take it to the Student Support Office and fill in the appropriate forms in regards to mitigating circumstances.

I lost my internet connection at home or in halls/My computer broke/ I have not got internet connection at home/ I became ill / fell asleep/ had to go somewhere in an emergency – on the Friday deadline when I was about to do my online assessments, can I have a second chance?
No. You must ensure that you complete your assessments in timely fashion, as this will allow time to resolve any problems. If you do not have an internet connection or have computer problems, use a University cluster PC, go to your local library or the Alan Gilbert Learning Commons. The timetable ensures that you have a reasonable period within which to complete each assignment. Leaving the work until the deadline and then experiencing problems at this time cannot be excused.

I tried to access my assessments and it seems that Blackboard is down. How can I access my assessment?

Contact the eLearning team via "Technical Support" > "eLearning Enquiries" as soon as possible and continue trying to access Blackboard every few hours. If Blackboard is back online prior to the deadline, no extensions will be granted. The Faculty eLearning team will discuss the outage with the Student Support Office in regards to whether or not action needs to be taken.
If there is a significant service disruption the Unit Coordinators in conjunction with the Student Support Office may extend the deadline for the assessment by one or two days (details will be sent via email).
I am trying to complete my eLearning but the university internet is down. I tried from several locations and no internet based service is working (note that in this case you would be unable to submit an enquiry or email anyone).

Keep trying to access the eLearning resources up to the deadline. As you cannot submit an online enquiry, ring the IT service desk number (0161 306 5544) to report the problem. If this occurs on a deadline day you should still check every few hours. You should ensure that you check that the internet is not working from several computers (to be certain that it is not just your computer). If there is lengthy service disruption to a significant number of students the Student Support Office may consider extending the deadlines for an assessment by one or two days (details will be sent via the email).
My grades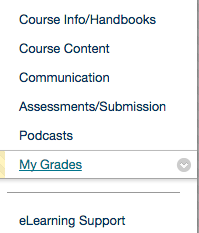 You will be able to see your grades for each assessment under the "My Grades" section in Blackboard.