Registration
The University of Manchester has a student record system which allows you to complete most of the registration process online from home. We strongly recommend that you complete the 10-step registration process online before you arrive in Manchester. Please refer to the University's Welcome website -  http://www.welcome.manchester.ac.uk/getready/registration/.
You should already have completed a 'Course Unit Plan' outlining your choice of optional units during the meeting with your Programme Director in April of the last academic year. You will have automatically been enrolled on your mandatory units and should have enrolled yourself on your optional units over the summer on the Student System. If you did not submit a course unit plan you will need to discuss your choice of units with your Programme Director in Welcome Week.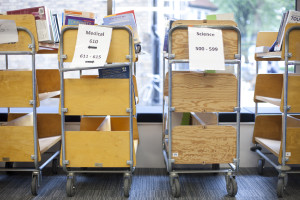 The final stage of registration is conducted by members of staff from the Student Services Centre. You will be issued with a Student Card, which you need to access the Library and the Stopford Building, and must also be taken to all examinations. It is very important that you look after this card and have it with you every day - without it you will not be able to enter the Stopford building for practicals or lectures.
Overview of the programmes
The programmes are built on a unit (modular) structure.  You will take:
A tutorial unit over the year (assessed through the two special programme problem/essay papers each worth 10 credits)
BIOL33000 MSci Research Project Proposal (10 credits)
BIOL33012 MSci Experimental Skills Module (20 credits).
BIOL33011 MSci Bioinformatics Tools and Resources (10 credits) and/or
BIOL33021 Computional Approaches to Biology (10 credits), as determined by your Programme Director.
Then either 5 or 6 lecture-based unites over the year (each worth 10 credits), up to 120 credits in total.
You must ensure that the total credits you take over the year is 120 - this is most important and your responsibility. You should take no more than 60 credits per semester (maximum exception of 70 credits allowed, and only with Programme Director consent) as specified in the University's Manual of Academic Procedures.
For each programme there are mandatory units that define your Degree Programme plus a range of optional units (Course unit profiles). You may choose your optional lecture-only units from those provided by the School of Biological Sciences (coded BIOL) and some units from outside the School. No more than 20 credits of your lecture-based units should be taken from units without a BIOL code (this will differ for programmes such as Biology with Science and Society, and Cognitive Neuroscience & Psychology - in all cases please refer to the Academic Advisement sheets found on the intranet). You should carefully read the unit descriptions before deciding upon your optional units and also take account of potential timetable clashes between your chosen options (see Section Units that clash (Level 1) (Level 2) (Level 3)). Guidance on your choice of units should be sought from your Academic Tutor or Programme Director. It is recommended that you do 4/5 lecture units in each semester in Year 1 and 2. Failure to balance your lecture units in this way could significantly increase your workload in one semester relative to the other. In Year 3, it is recommended that you take 4 lecture units in semester 1 and 2 lecture units in semester 2 to balance your workload. Note that units taken from outside the School may have coursework components that are unlike those offered by units from within the School.
Most School lecture-only units in Year 1 and 2 consist of 22 lectures (or equivalent of other forms of teaching/learning) at the rate of 2 per week. In Year 3, School lecture-only units consist of 18 lectures (or equivalent of other forms of teaching/learning) at the rate of 3 per week; BIOL lecture units run over a 6 week period in final year. Most lecture-only units from the School include an assessment by written examinations at the end of each semester, i.e. January and May/June. There are a few units offered outside the School that are year-long and are examined in May/June.
The University has a system of credit rating of all course units. It is intended to give you an indication of the proportion of your time that all the work of a unit is expected to occupy and is based on a full year's work being 120 credits.  This figure assumes 30 weeks' work at 40 hours per week. Therefore, you can expect to spend ~100 hours on a typical 10-credit unit. This time includes, for example, reading, eLearning materials, writing and revision, as well as direct contact hours.
Tutorials are held in small groups of 5-10 students.  These occur at times convenient to your Advisor and the students in the group, which may be 8.00-9.00 or 17:00-18:00.
Changing optional course units: You may change any optional units in Year 1 and 2 (except field courses in Year 1, RSMs in Year 2, and language units that run for two semesters), at the beginning of each semester (during the first two weeks). Year 3 students may change optional units as follows:
Semester 1, early units – first two weeks of semester one.
Semester 1, late units – week 7 of semester one.
Semester 2 units – week 2 of semester two.
To do this you will need to log into your Student System in the same way as you did when you completed course unit selection. Further instructions can be found in the Course Unit Selection (Level 1) (Level 2) (Level 3) section. Please note that you must ensure that you do not drop or swap any course unit that is a mandatory course unit within your programme regulations. You must ensure that any changes you make to your course unit selections still satisfy your programmes academic advisement rules. Academic advisement rules can be found at the following link: https://app.bmh.manchester.ac.uk/education/cm/academicadvisement.aspx.
MSci degree programmes
If you feel that you no longer wish to continue on a MSci degree programme at the end of Year 3, it is possible to exit with a BSc degree. If this is the case, you should discuss the possibility of exiting at the end of year 3 with your Programme Director and/or Academic Tutor and inform the Student Support Office of your decision to exit with a BSc degree.
Note: if you inform us of your intention to graduate with a BSc at the end of Year 3 after the end of Semester 2, you will lose the opportunity to be considered for promotion to a high final degree classification if your final degree mark falls within the viva range.